Photos by Mitchell Pruitt
Environmental Education Awards
AEEA draws great pride and inspiration from individuals who make contributions to environmental education.
Outstanding Environmental Educator Award
AEEA recognizes individuals from across the state who have made outstanding contributions to the field of environmental education. These individuals demonstrate dynamic leadership in serving students and citizens of Arkansas. AEEA is proud of the environmental education efforts happening here in The Natural State. Sometimes these efforts are called outdoor learning, conservation education, place-based learning, and e-STEM. We include these titles as well under the category of environmental education.
We have set award criteria in three different categories to cover the broad scope of EE and allow a category in which any innovative individual could be recognized.
AEEA is currently accepting nominations for 2023 outstanding environmental educators. 
Individuals can nominate themselves or a colleague. AEEA membership is not required to submit a nomination or for the nominee. Recipients are announced during the annual EE Conference and highlighted in the Association's newsletter and on the website.
Click here for more information about the nomination criteria and process.
Nomination deadline is March 31, 2023.
Read about previous awardees

Outstanding Environmental Educator
The nominee must be an Arkansas Pre-K, elementary, secondary or college educator who incorporates environmental education as a main focus in their curriculum. The nominee should influence students, school, or community in environmental education, awareness, knowledge, and action.

Outstanding Environmental Educator
The nominee must be an Arkansas educator performing in a non-formal setting. Non-formal settings include, but are not limited to nature centers, parks, nonprofit organizations, and government agencies which provide education and outreach programs. The nominee should exhibit personal and professional commitment to environmental education and have demonstrated outstanding achievement in the field.

The Robert McAfee Environmental Education Service Award
The nominee must be an Arkansan who has exhibited personal and professional commitment to environmental education, service, awareness, knowledge, and action throughout their career and life. The nominee should exemplify the values and mission of AEEA.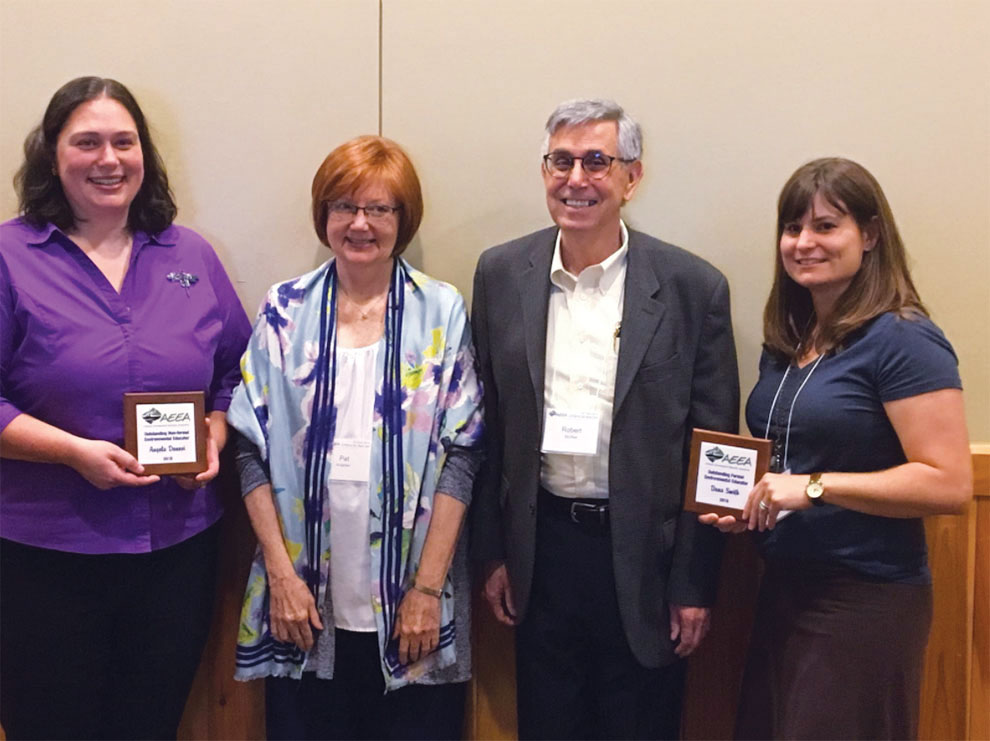 Recipients of the 2018 Outstanding EE Awards from left to right: Angela Danovi, Outstanding Nonformal Educator; Pat Knighten, Robert McAfee Service Award; Robert McAfee, Founding Executive Director; Dana Smith, Outstanding Formal Educator.
AEEA encourages students to explore the fields of science and engineering through a special award at the annual State Science and Engineering Fair. Students may self-select for their sustainability-focused projects to be judged in this special category. The goal of the award is to recognize high school students whose projects demonstrate applicability to a real-world problem by either creating or advancing techniques resulting in a more environmentally sustainable world or exploring a solution to an environmental problem.