AEEA serves as the host institution for Project WET in Arkansas. Through a network of trained facilitators around the state, we offer professional development workshops to formal and nonformal educators. Workshops model hands-on activities in one of the Project WET curriculum guides. Lesson are aligned with national education standards and incorporates hands-on, interdisciplinary lessons.
Project WET educator guides include
Project WET Curriculum and Activity Guide 2.0 – grades K-12
Getting Little Feet Wet – early childhood learners
Climate, Water, & Resilience – middle through high school 
Healthy Water, Healthy People – middle school through college
Wonders of Wetlands – grandes K-12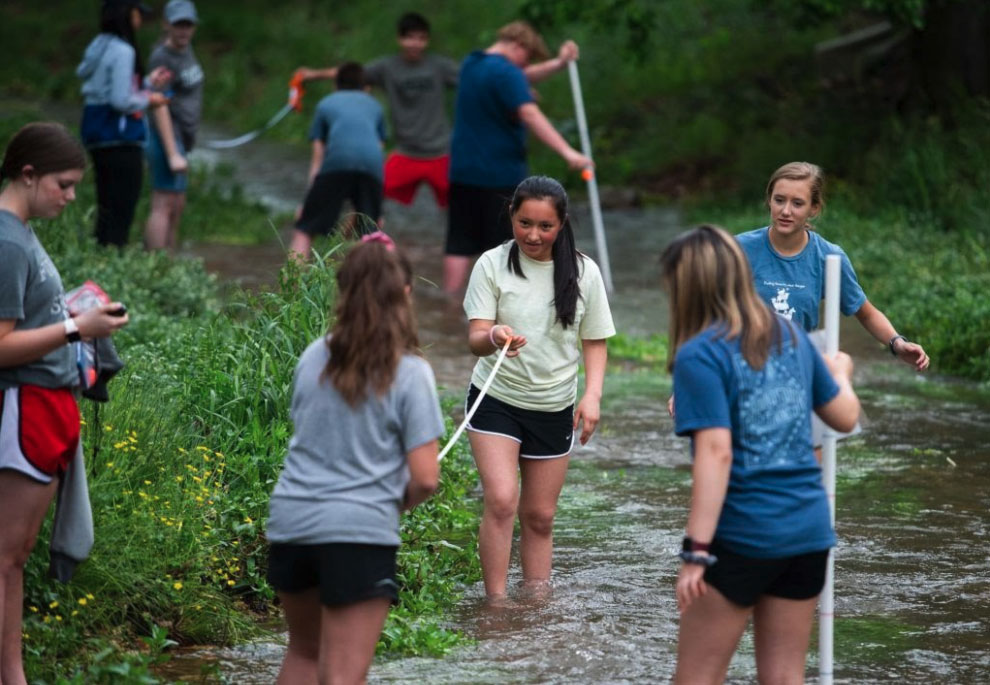 Elmwood students collecting measurements on Prairie Creek at Lake Atalanta Park to calculate stream discharge as part of a 2019 grant recipient project. (Photo Credit: Jason Ivester, Communications Multimedia Specialist, Rogers Public Schools)
Project WET Workshops Are For All Educators
Project WET workshops provide 6-hours of Arkansas Department of Education approved professional development hours for classroom teachers. Activities in the Project WET curriculum guides can be used by
Kindergarten Through 12th Grade Educators
Early Childhood Educators
Nature Center, Parks, and Zoo Staff
State Organization Education & Outreach Staff
After School Program Leaders & Educators
Parents and Grandparents
Homeschool Teachers
Education and Environment-based College Majors
For more information about current workshops see our Professional Development or Community Calendar. To request a workshop near you, please contact Sophia Stephenson. If known, please include the following information: your group or organization, location, anticipated number of attendees, and target audience.
Since 1984, the Project WET Foundation has been dedicated to reaching children, parents, teachers and community members of the world with action-oriented education that enables every child to understand and value water. Project WET is active in all 50 U.S. states and in 80 countries worldwide.