Abigail Ferrell and the 6th grade students of her EAST (Education Accelerated by Service and Technology) class have big plans for their school grounds.  They are explaining the final plan for the Sara Ford Outdoor Pocket Gardens and Learning Space. Their project, named after the school's first principal, is to renovate the school's butterfly garden and create an outdoor learning space. Students have led all aspects of this project, from learning about landscape design and plant choices, logistics of outdoor learning spaces, to grant writing.  More students were involved in the project than those pictured above, but they are attending school on alternate days due to Covid-19. 
Beginning in fall 2020, students began removing weeds from the butterfly garden on the school grounds. They researched nectar and host plants to attract pollinators and determined which species would work well in the space at their school. They polled teachers of all grade levels to ask what the teachers needed in an outdoor classroom. To address the teachers' needs, the outdoor learning space was located in an area bordered by the main building on three sides, allowing teachers to see all students, easy entry to restrooms, and shade during hot months. The plan also includes a class set of clipboards, dry erase markers, and small whiteboards and a large roll-out white board kept in a shed at the entrance to the site.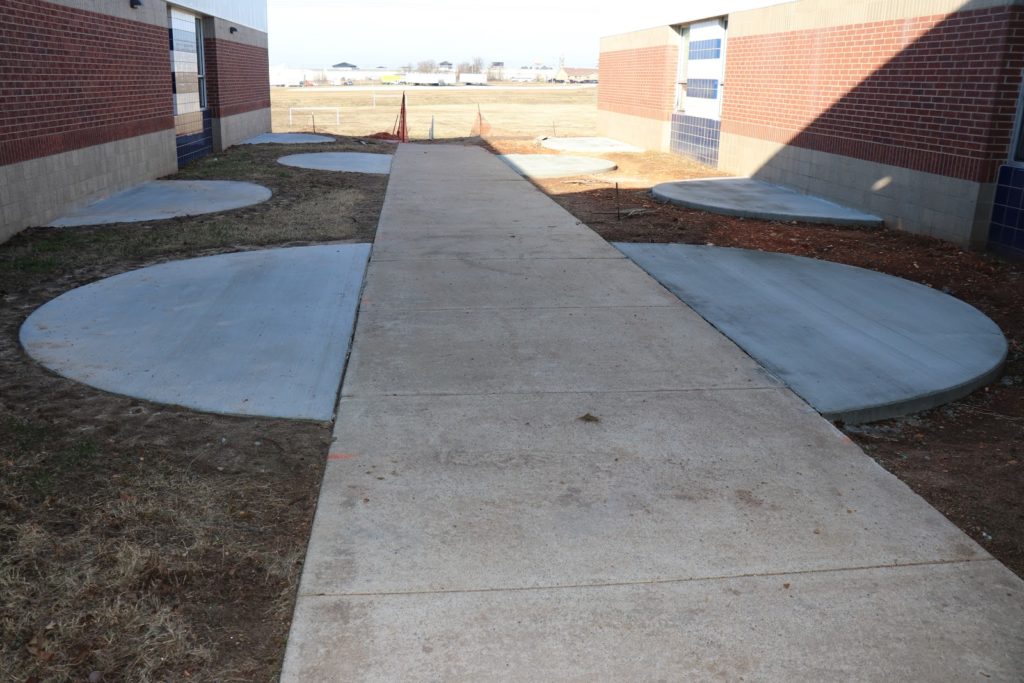 Once the site was determined, the students worked with the school district's maintenance department to pour concrete and place tables. The image above shows the beginning stage of the outdoor learning space. Concrete pathway and pads allow for easy access to areas for students to work, and the semi-circle areas will eventually have tables. Pocket gardens of various themes will be planted around the concrete areas.
Students will collect data on two aspects of this project. The first will be teacher use of the outdoor space and the second will be the number of monarch butterflies visiting their school grounds. During the monarch summer migration of 2021, J. O. Kelly EAST students will tag monarch butterflies and collect base data. Over the next year data will be collected and analyzed to determine if the number of monarchs tagged will increase.
This project shows signs for success through support from other teachers, buy-in from community partners, commitments from volunteers, and funding from multiple sources. The Arkansas Environmental Education Association is excited to be part of this effort that could benefit all students and teachers at J.O. Kelly Middle School. We look forward to seeing the completed pocket gardens and hearing from students and teachers about their use of the space.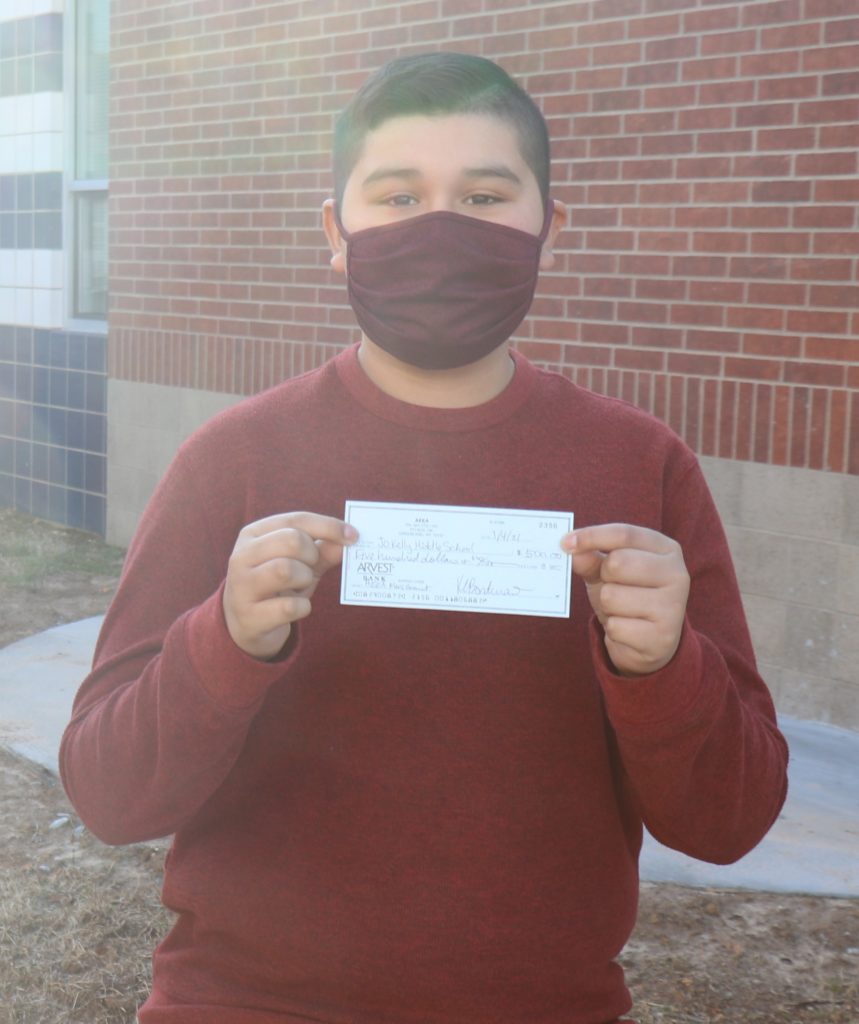 Sebastin Alvardo-Perez, 6th grade EAST student, holding the grant check from AEEA. He was one of the main students to work on the grant application, and under his mask was a big smile.