Ut porttitor imperdiet hendrerit. Suspendisse pulvinar lacus nec sollicitudin finibus ligula quam.
Environmental and Outdoor Learning Opportunities Available in Arkansas
We are gathering information on outdoor and environmental learning opportunities in Arkansas during the Covid-19 Pandemic.  This is what we currently have, and we hope more will come.
Environmental and Outdoor Learning Opportunites
If your organization has learning opportunities, please fill in the Google Form below.
Please complete this short Google Form
Share the Google Form with other organizations so we can capture as much information as possible
Share the compiled information (once gathered) for teachers and parents to use
COVID-19 Resources, Tips and Support
AEEA, the North American Association for Environmental Education, and other EE organizations around the country have gathered information about online learning tools and resources during the Covid-19 pandemic. We are sharing what we gather in hopes that meaningful learning opportunities continue during distance-learning, EE organizations can weather this uncertainty, and we can continue to foster community during physical distancing.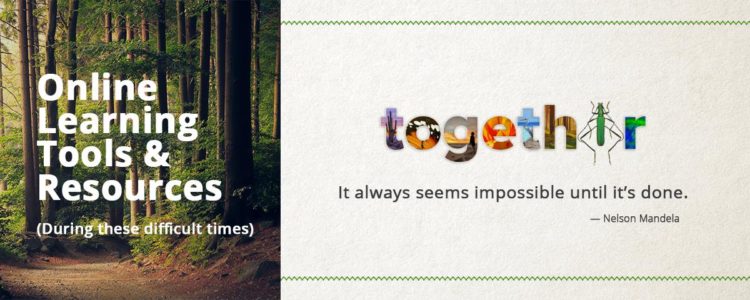 Information is arranged into Federal Stimulus and Advocacy, Early Childhood, Elementary, Middle School, High School, Higher Ed, Virtual Field Trips, Professional Development, and eePro Resources.
Virtual Meeting and Videoconferencing Tools
Although there are many great virtual learning opportunities available and being developed, not all children or families have access or have limited access to the internet and computers at this time. 
Do you know of internet providers allowing free service or unlimited data?  If so, please share.  
Here is a creative idea from Elkins Public Schools – providing mobile wifi on school buses parked around town. 
Elkins to provide WiFi on wheels for students
Let's also be creative in ways we can distribute information to our communities other than virtually.  
Staffing and HR Resources
Phone calls, when feasible, with funders are ideal during this time. Reach out quickly and begin the conversation about the unique position we are all in and emphasize the investment they have already made in your programs and organizations. Highlight that we all play roles in helping our communities during this time and there is an immediate need right now to support our staff during this time to not put additional pressure on our already pressured systems right now. Share that this conversation is to explore how to use their investment in your work by shifting priorities to continue to build program and organizational capacity and pay staff for the foreseeable future.